Store
Description
The Autcraft Store is where players can buy ranks, permissions, and other items to enhance game play. To access the store, visit click here, or click the "Store" tab on our website menu.
Currency
Items can be purchased using real money, or with credits. Players can earn credits by signing up for in game jobs and then converting earned job points to store credit. 
Jobs
Players can have up to three jobs at a time. Visit /warp jobs to see available jobs and their descriptions. After choosing jobs, simply do activities that earn points. For example, Miner job gives points for mining stone, ores, deepslate, and other blocks. Choosing activities that are enjoyed and frequently done while playing Minecraft will make earning points quick and easy.

Converting Job Points
IMPORTANT Players must have registered at Autcraft.com beginning April 2022 or later before converting any job points. If you have not updated registration to our new website, your job points will be lost during conversion. 
When a player is ready to use their job points, they can convert the points into credits with the command /jobs shop
The blocks on the shop GUI represent the increments of points that can be converted into credits. Hovering over each block will provide the conversion information. Players must have a free inventory space in order to convert points.
Note: These blocks do not represent ranks or any other item. They are only placeholders for the conversion options. 

Dirt Conversion - 10,000 job points = 1 store credit

Iron Conversion - 100,000 job points = 10 store credits

Gold Conversion - 500,000 = 50 store credits

Diamond Conversion - 1,000,000 job points = 100 store credits

Using the Store
After points have been converted to credits, players can visit the store by clicking the link on the menu bar at the top of our website. Please make sure that there is enough inventory space in the game for the player to receive the items purchased. 

Items are added to the store manually. As our store is newly opened, please be patient during the process. As of the most recent update of this page, only Ranks are available for purchase. Other items will be added. 
Select the category of the desired item. At this stage, there will be a field to enter the username of the player the item will be sent to. This can be you, or it can be a different name if you wish to donate a rank to another player. 

For information about each item, click "Buy"

A description of the item will pop up. To continue with the purchase, choose "Buy"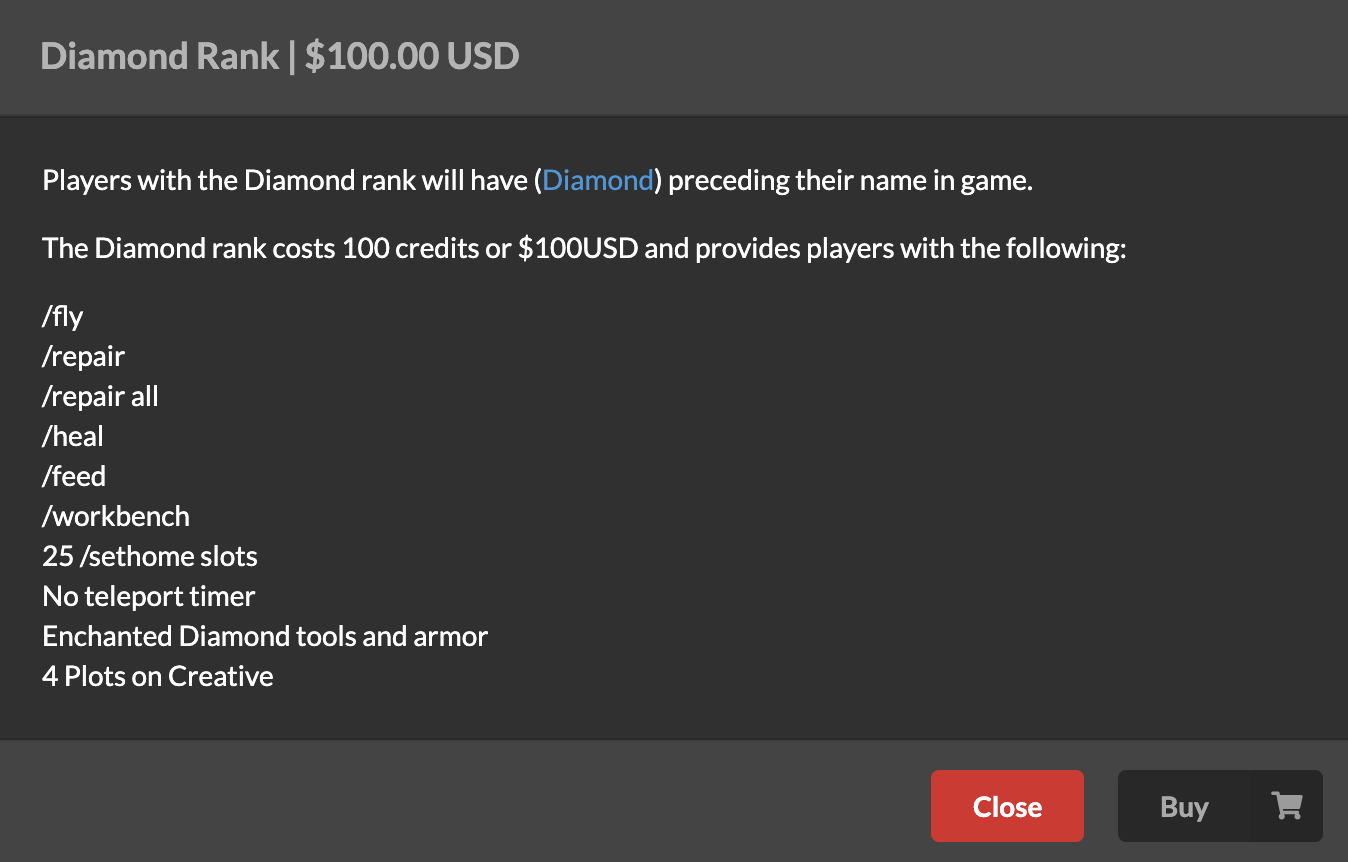 On the checkout page, there is an option to use the available credit balance, or pay with real money through PayPal. Make sure to check the box at the bottom agreeing to terms and conditions of the purchase. To finalize this sale, click "Purchase."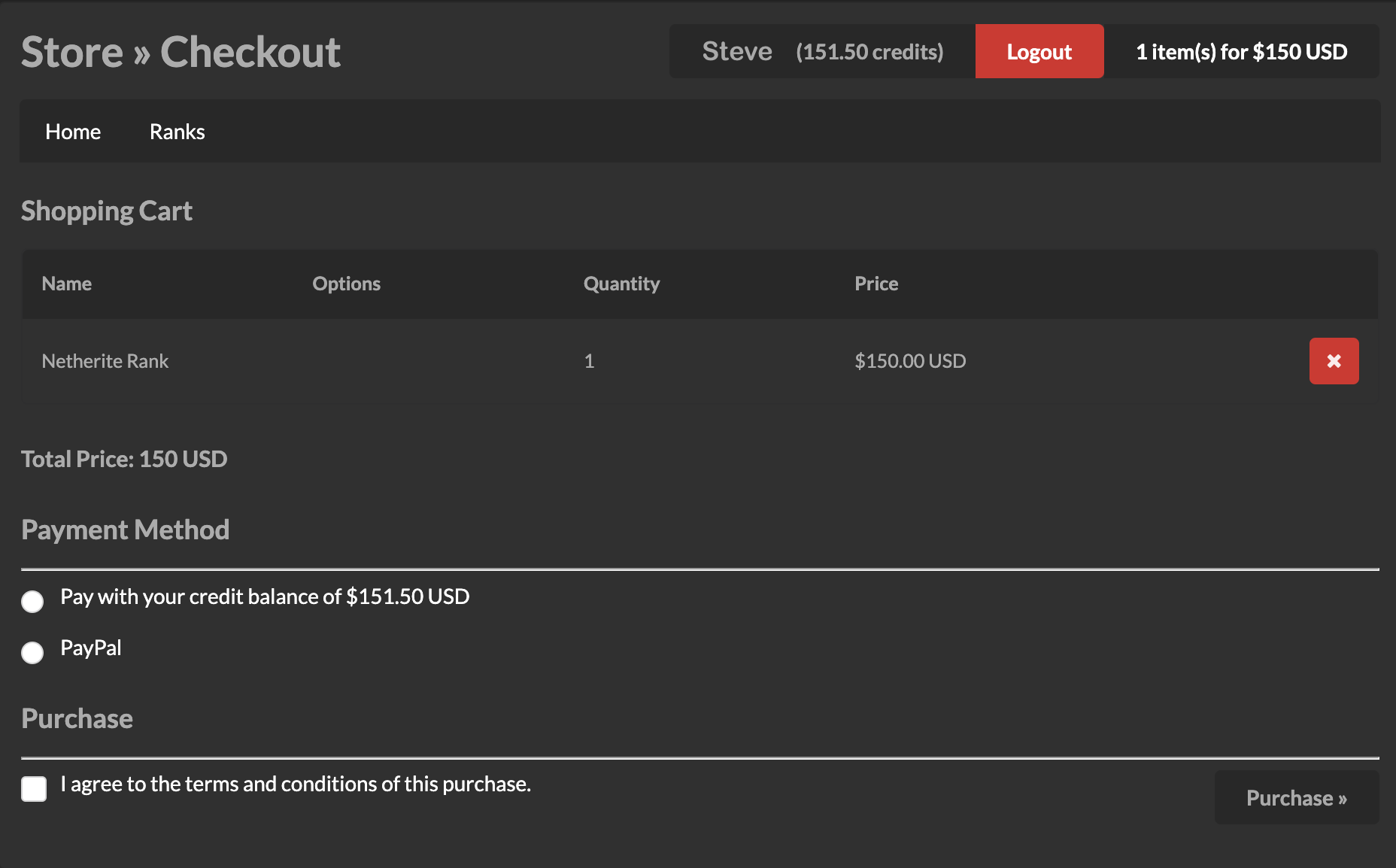 ---
Frequently Asked Questions
How do I get to the store?

Visit out website and click "Store" from the menu at the top of the page.

Where did all my points go?

Points from the old store have been recorded. They will be converted to the new store and manually added to player accounts. Please be patient while staff completes this huge task.

I had so many points on the old store! Why do I have so few now? 

Our new credits hold more value than the old points. 1 credit = 100 enjin points
Items in the store cost the same value as the old store. They have been adjusted to match credit value. Job points required to purchase items will remain the same.

Why are there only a few things in the store? I want particles.

Each item in the store has to be added manually. Cost must be converted to match the new system. More items will be added as soon as possible. 

How do I donate a rank to another player?

 When you get to the store, there is a place to enter a username. Enter the name of the player you wish to donate a rank to and finish the purchase. All items purchased in that transaction will be given to the listed player. To buy something for yourself, log out of the store and enter your username to start a new purchase. 

How do I see how many credits I have?
---